Dale Ragan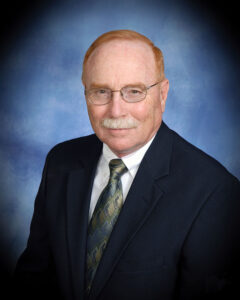 Realtor (since 1976) – Broker, Auctioneer
615-347-6010
[email protected]
Dale was born in 1942 to Henry V. and Nancy Ragan.   Dale was raised in Dickson, Tennessee, with both sides of his family having deep roots in Dickson County.  He graduated from Dickson High School in 1960  and married the former Mavis Donegan of Dickson in 1963.
Dale attended the University of Tennessee at Knoxville where he graduated with a degree in Nuclear Engineering in 1964.  Upon graduation, they moved to Newport News, Virginia, were he went to work at Newport News Shipbuilding and Dry Dock Company as a refueling engineer on the first nuclear refueling of the  U.S.S. Enterprise aircraft carrier.
In 1966, they moved to Cincinnati, Ohio, where Dale had taken a job as a production engineer with General Electric at their Evandale jet engine plant.  This was the plant where jet engines were manufactured for fighter aircraft.
In 1967, they moved to Huntsville, Alabama, where Dale joined Brown Engineering to do research on the nuclear fueled rocket design program. He worked at the Redstone Arsenal.
In July of 1968, with the family now consisting of three children, the family returned to Dickson where Dale joined his parents in the family furniture and appliance business, The Friendly Neighbor Store. Within a short time two more children were born.  Dale and Mavis ended up with five children and thirteen grandchildren.  They are a couple that is active in their relationship with the Walnut Street Church of Christ.
In 1976, he received his real estate license and worked with R.L. "Bob" Nicks.  In 1985, Dale opened his own real estate office in the Arcade Building on North Main Street, next to The Friendly Neighbor Store.  Both are still active businesses with Dale operating the furniture store and his son owning and operating the real estate firm.   Dale remains active in the real estate business on a daily basis. He was raised in an era when good service had true meaning, and he continues to operate by that philosophy.  He has a lifetime of knowledge of the Five Rivers Area.