Col. M. G. "Glenn" Hicks (in memory)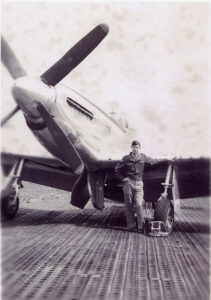 A native of Charlotte, Tennessee, Col. Hicks obtained his real estate license in 1966 and was active in real estate for well over 40 years.  He had his broker's license and his GRI and CRS designations.
Prior to entering real estate, as a 20-year old civilian aviator at Memphis State University, Glenn joined the Army Air Force in 1942.  Following training at several bases, he was commissioned a Second Lieutenant and was shipped overseas with his fighter group aboard a British ship in March of 1944.  He began daily sorties over Belgium and France in his P47 Thunderbolt fighter.  At 4:00 a.m. on D-Day he began the first of four missions over Normandy in support of the allied landing.  Daily missions continued until July 6th when he was shot down.  He was found unconscious, still strapped to his cockpit seat, 100 yards from his burning aircraft.  Following treatment in a tent hospital and a hospital in England, he returned to the states for further recovery.  He returned to Europe in 1946 with his wife, Barbara, where he served during the Occupation of Germany.  He also piloted flights during the Berlin Airlifts.  After this tour was over in 1949, he continued to serve several tours of duty in various states and in Ecuador, South America, where he was Operations Advisor to the Ecuadorian Air Force.  He retired with the rank of Lieutenant Colonel in 1965 after 24 years of service.
Col. Hicks remained active in real estate for many years.  He continued to come to the real estate office on a daily basis until shortly before his death.  He remained fluent in Spanish and would give Alan a daily history lesson and occasional Spanish lesson.  "The Colonel" passed away in 2011 at the age of 88.